If you're looking for some of the best German Shepherd breeders in Louisiana, you've come to the right place! But before you jump in, it's always best to do some research first. That way, you can be confident that you're adopting a well-trained, friendly, healthy pup.
Luckily, there are plenty of options for German Shepherd breeders, trainers, and adoption centers in Louisiana and its surrounding areas. To ensure you get the best deal, we recommend choosing breeders who are well-respected and offer fair prices so you can be sure your new furry family member will be happy, healthy, and ready to settle into their new home with you!
Other articles you may also appreciate: How to Discipline A German Shepherd Puppy and German Shepherd Commands: Essential Obedience Training Tips for Your Pup
1. Von Der Phantasie German Shepherds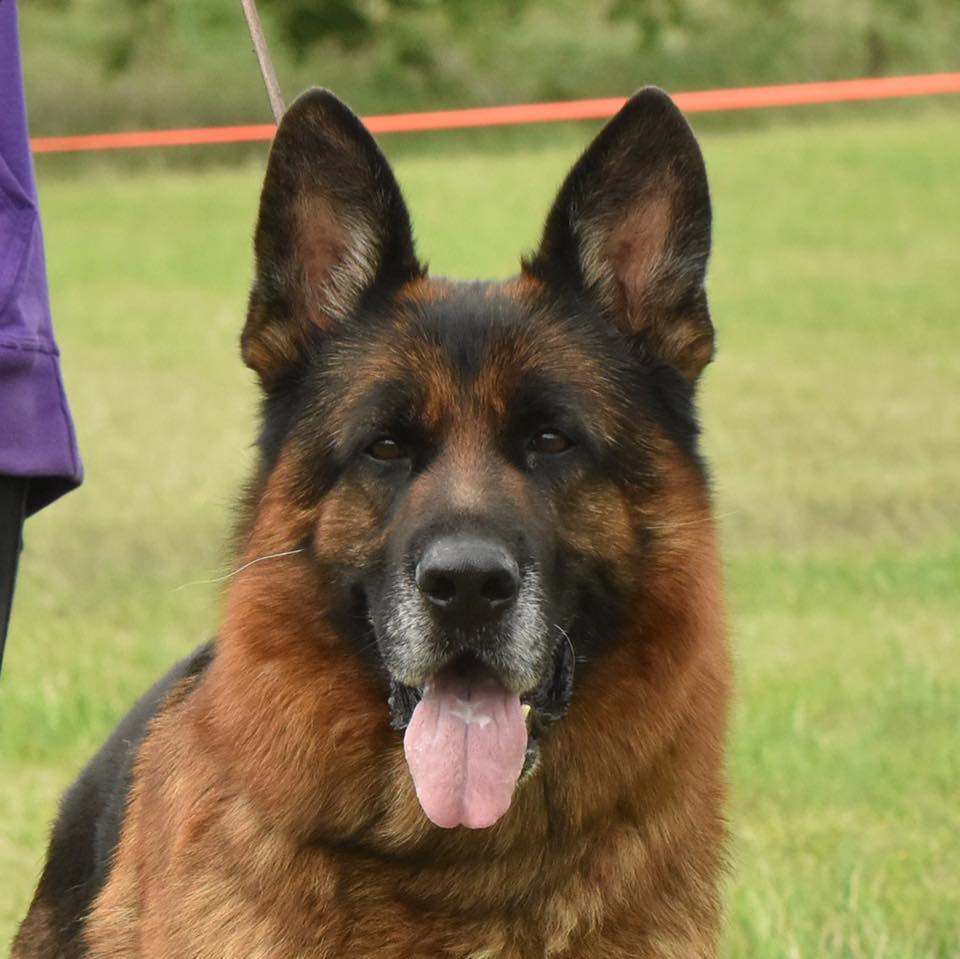 If you're looking for a trusted and family-owned German Shepherd breeder, Von Der Phantasie German Shepherds (GDP GSD) could be just what you're looking for! Located near Louisiana in Missouri, this licensed and registered breeder is an excellent option for anyone looking to take a day trip to find their new furry family member.
At Von Der Phantasie, they specialize in raising and training German Shepherds with a focus on certain aspects, like imported European show dogs, short coats, traditional Black German Shepherds, and Red German Shepherd puppies.
The German Shepherds trained and housed here are all direct European imports with long bloodlines, high health ratings from HD/ED, favorable VA and V show ratings, and KKL breed-surveyed titles.
To ensure the highest level of pedigree, all dogs at Von Der Phantasie are AKC Registered and undergo health testing. The breeders and professionals here ensure that all puppies have the right temperament to be easily rehomed to a forever home without any issues during integration or training.
Not only that, but Von Der Phantasie offers unique training methods and additional services to dog owners and future dog owners, such as health testing for genetic disabilities, hip & elbow testing, and breed quality testing. Additionally, all German Shepherds here are registered with the American Kennel Club, which allows for potential breeding, showing options, and obedience training.
If you choose to adopt a puppy from Von Der Phantasie, you can rest assured that they come with helpful add-ons, like microchips, deworming, Certified Hips and Elbows certifications, DM-tested parents, and Veterinary Health Check Certificates.
2. Tropisch German Shepherds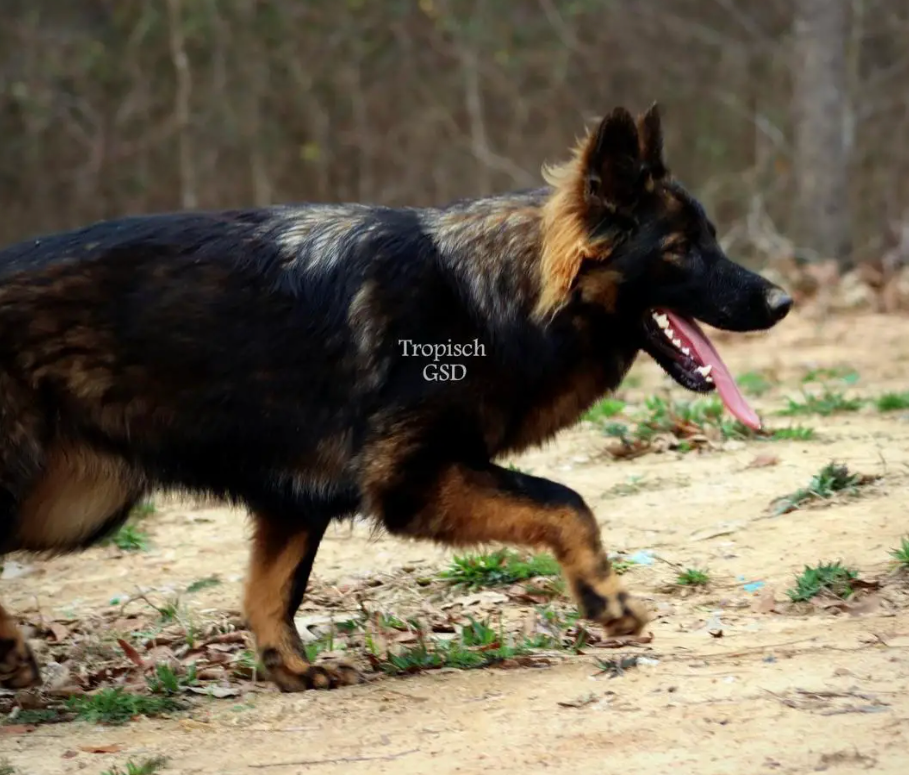 Tropisch German Shepherds is dedicated to breeding and rehoming healthy and happy German Shepherd puppies, and they're well-known for their effective training and healthcare methods.
All the professionals at Tropisch collaborate with dogs and owners to ensure that every German Shepherd leaves their facility as a great companion with a clean bill of health. Every dog housed and trained at Tropisch has been meticulously health-tested and trained to integrate seamlessly into a new home.
If you're interested in adopting a German Shepherd from Tropisch, their website offers plenty of helpful tools to get started. You can check out their current females for adoption, studs, upcoming and current litters, and available puppies and older puppies.
3. Vom Haus Eames German Shepherds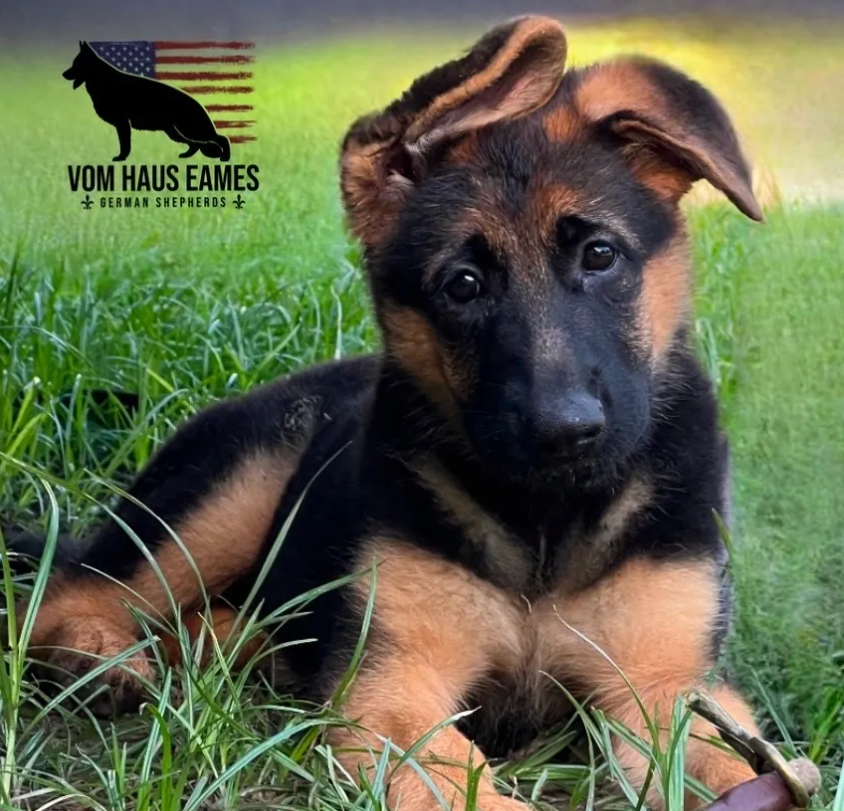 Vom Haus Eames is an independent hobby breeder in Baton Rouge, Louisiana, specializing in breeding top-quality European show-line German Shepherds. The breeder focuses on training and finding the best bloodlines of highly-rated dogs in the state.
What sets Vom Haus Eames apart is their ability to give personalized attention to each pup and dog in their care. The workers here strive to produce show-line dogs with a fair temperament, obedience, and structural aesthetic appearance.
Plus, all puppies at Vom Haus Eames are family-raised, allowing them to learn socialization, playtime with other dogs, and how to maintain a calm temperament in various situations. The professionals working at Eames follow the Puppy Culture Breeder Program and specific online puppy training courses to ensure all German Shepherd pups are well-behaved.
Moreover, Vom Haus Eames offers additional services like vaccinations, vet health records and certifications, DM clearance, records, Lifetime Breeder Support, a sales agreement, a 2-year Health Guarantee, and AKC Registration.
4. Cajun Country Kennels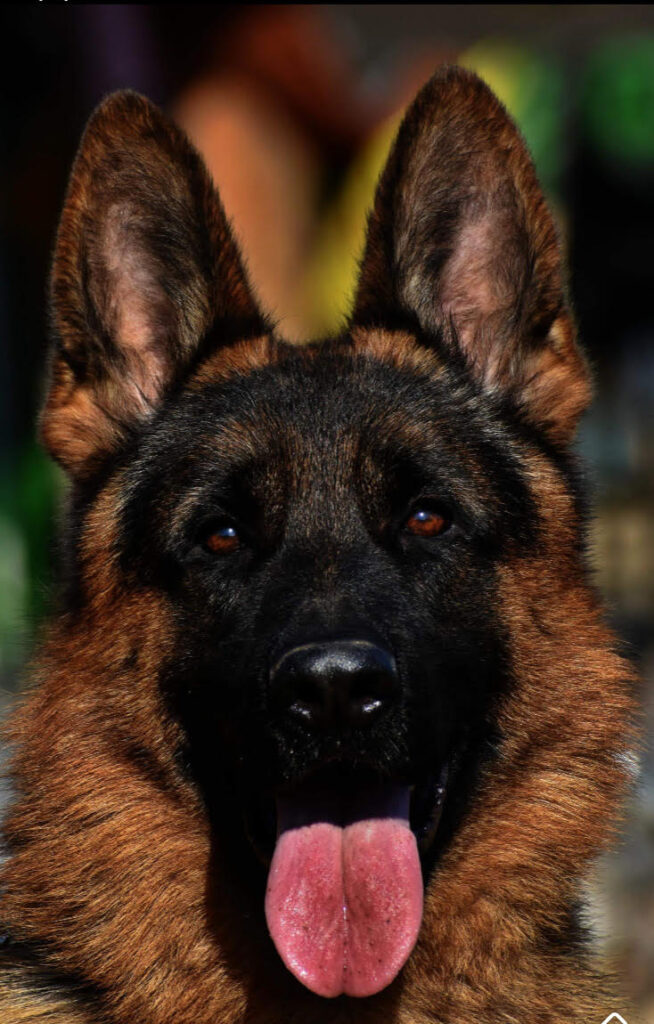 Cajun Country Kennels is a locally owned small business in Louisiana specializing in breeding top-quality German Shepherd dogs. The breeder focuses on providing excellent care for world-class bloodlines and selling puppies at a reasonable price.
Moreover, the kennel prides itself on using fair and honest practices in all its operations. They ensure their dogs receive the best care and treatment, ensuring they are healthy and happy.
As a prospective buyer, Cajun Country Kennels offers a variety of resources on its website to help you make an informed decision. These include information about the puppies for sale and details about their male and female breeders in the area that you can contact for more information.
5. Princess Puppies
Princess Puppies is a reputable breeder in Louisiana, known for providing happy and healthy puppies with a lifetime guarantee. They have received high-end reviews from thousands of satisfied customers, which speaks volumes about the quality of their service and the happiness of their puppies.
This breeder primarily focuses on smaller breeds but occasionally has German Shepherds available. Despite not being a specific German Shepherd breeder, they are a well-respected business in a quiet part of Louisiana.
At Princess Puppies, they ensure that their dogs are healthy, happy, and well-cared for at all times. They are dedicated to providing the best care for their puppies from birth to their new forever homes. And with their lifetime guarantee, you can be confident that you are making a good choice when choosing one of their puppies.
6. MNJ Kennels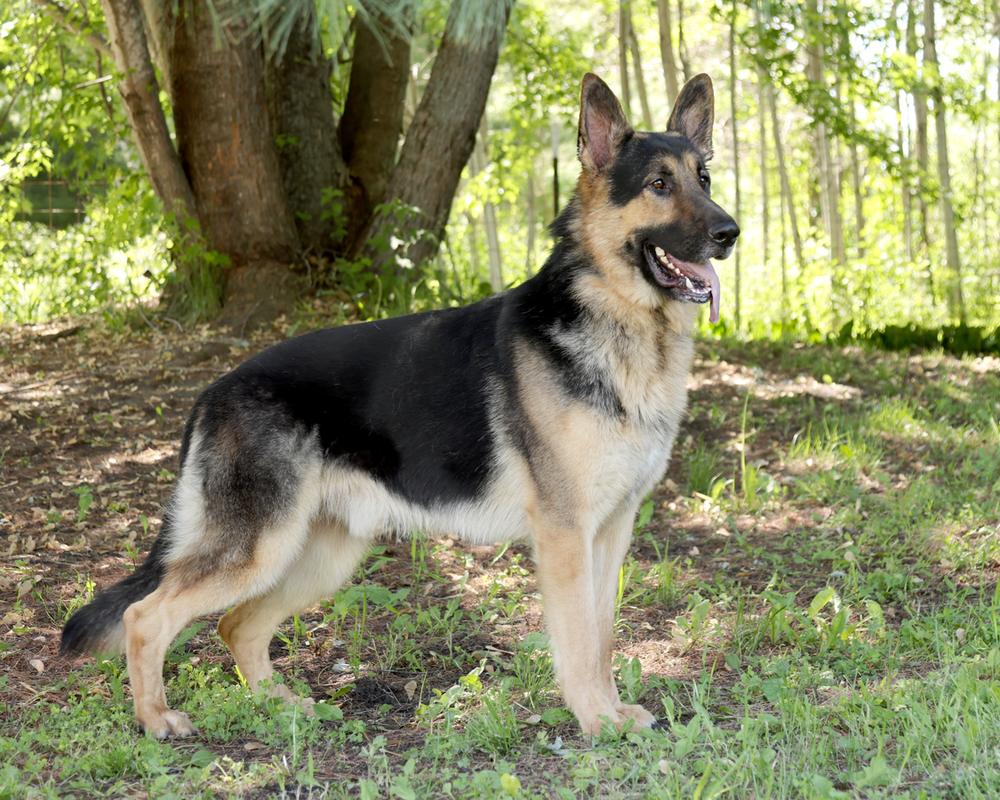 MNJ Kennels is a trusted and reliable breeder located in Loranger, Louisiana. This family-owned and operated kennel operates on a large, spacious farm where all puppies and dogs have acres of space to play, train, and socialize with each other.
The family who runs this breeder has decades of experience and knowledge, which they use to provide ample care, treatment, and training for all their dogs. They ensure that every dog in their care is healthy, happy, and well-socialized, making them great family pets.
Plus, MNJ Kennels is committed to providing all its customers with the best possible service. Their website offers information for future dog owners, including details about available puppies, waiting lists, upcoming litters, a new puppy shopping list, and contact information.
7. Vom Wolfdame Shepherds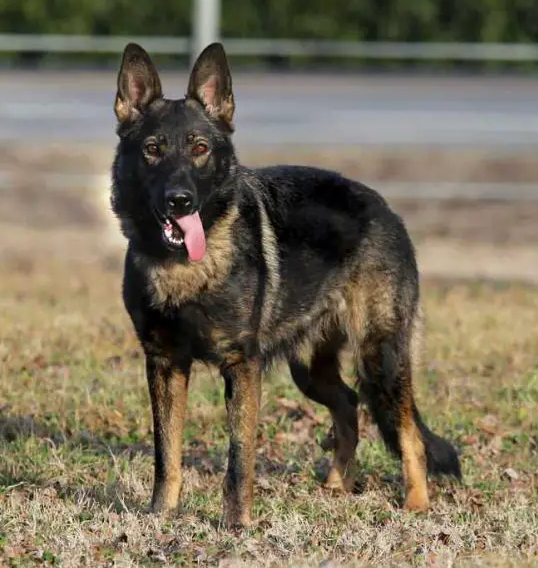 Vom Wolfdame Shepherds, formerly M&M Shepherds, is a breeder and German Shepherd trainer based in Louisiana. This breeder focuses on producing Sable and solid black German Shepherd dogs from Germany that are available for adoption.
When it comes to the health of their dogs, Vom Wolfdame Shepherds take no chances. All the dogs available for purchase here are health-checked and cleared of degenerative myelopathy, a common health issue in some German Shepherd dogs.
Vom Wolfdame Shepherds also emphasize the temperament and socialization of their German Shepherds, ensuring that their dogs are genetically tested, healthy, and well-trained in these areas.
8. Schatten Kennels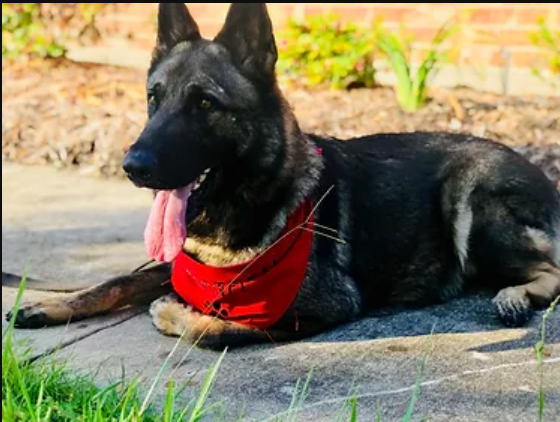 Schatten Kennels, run by Scott and Bethany, is a family-owned business that provides high-quality German Shepherds to loving families. Established in 2016, Schatten Kennels has become one of the top breeders in the state, earning a reputation for excellence in breeding and customer service.
They are passionate about training and healthcare for dogs, mainly German Shepherds. Their extensive research, professional training, and breed knowledge enable them to use proven training methods, temperament training, and personalized care to produce well-adjusted and loving-natured German Shepherd dogs.
A standout feature of Schatten Kennels is their lifetime breeder support. They offer ongoing support to their customers long after adoption to ensure their pups are well-cared for. Additionally, they provide puppy training to new dog owners, offering the tools and knowledge necessary to care for their new furry family member.
Their website provides information for prospective customers, including details about their current males and females for adoption, training tips, and contact information.
9. Von Adelmo K9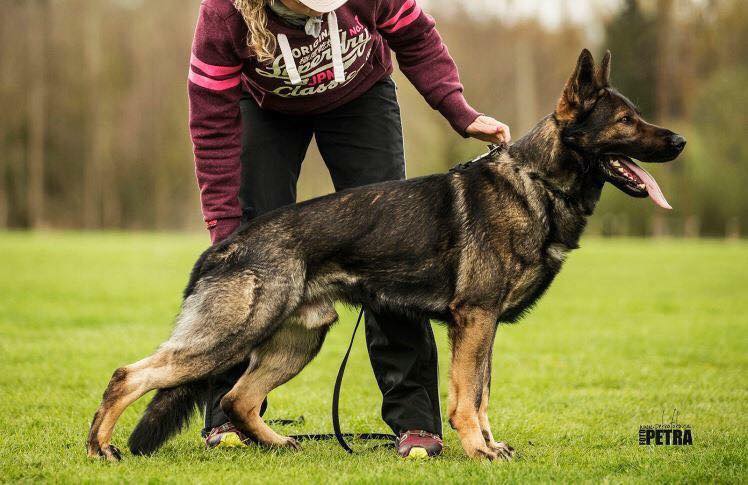 Von Adelmo K9 is a Louisiana-based dog trainer, and breeder focused on working with European German Shepherds. The owner is actively involved in training and competing with their dogs, showcasing their expertise in dog training and control.
They offer a variety of training programs for their puppies to ensure that they are well-behaved, obedient, and respectful of their owners. Their training methods are designed to help puppies learn quickly and retain the skills they need to thrive in their new homes.
Their website also provides valuable information to customers looking for professional advice and user reviews. The reviews are a testament to the quality of service and care provided by Von Adelmo K9, making it a trusted and reliable breeder in the area.
Conclusion For "Best German Shepherd Breeders in Louisiana"
When searching for the best German Shepherd breeders in Louisiana, there are numerous reputable options to choose from. Whether you're looking for specific lineage, personalized training methods, or lifelong breeder support, there's likely a perfect fit for your needs. From Von Der Phantasie German Shepherds known for their imported European show dogs to Schatten Kennels with its lifetime breeder support, the variety is vast.