If you are searching for German Shepherd puppies in Nebraska, this article is for you.
Finding a breeder you trust is as important as adopting the right puppy. It takes time and extensive research. Since most potential dog owners are busy with work and family obligations, we simplified the process by doing some of that research for you.
Here's a carefully curated list of what we consider the best German Shepherd breeders in Nebraska to help you choose.
Other articles you will also like: How Much Do German Shepherds Sleep? and How to Stop a Dog from Pooping In the House at Night?
Krieghund Farm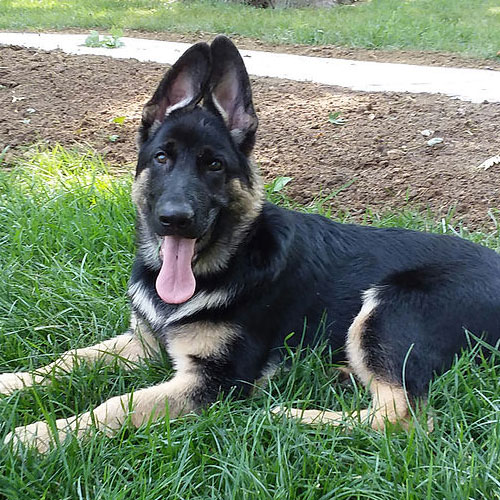 Krieghund Farm looked at other German Shepherd breeders in Nebraska and resolved to outperform them. It holds itself to the highest customer service standards, canine care, and cleanliness possible.
It handily meets the American Kennel Club breeding standards. But it prioritizes its dogs' temperament and health first and foremost. All their breed dogs are tested for genetic predispositions and health complaints.
None of the dogs involved in their programs test positive for Myelopathy, and neither do their puppies. Additionally, they offer a two-year hip guarantee for their puppies. However, this is conditional on owners agreeing to wait a year before neutering or spaying their dogs. Otherwise, Krieghund feels the dogs lose access to crucial hormones that promote long-term health.
This warranty may also be voided if Krieghund feels you are feeding or training your dog inappropriately for its age and temperament. However, to ensure you get the most out of their guarantee, they are happy to keep in touch with owners and offer advice on training and food.
Such rigorous measures aren't for everyone, and with that in mind, Krieghund has a thorough adoption application process. That ensures that you and the German Shepherd puppies get someone that meets their needs.
Once your application is accepted, Krieghund requires a deposit to hold the puppy of your choice. Puppy selection operates on a first-come-first-serve basis.
Another vital element of a healthy German Shepherd puppy, according to this Nebraska breeder, is socialization. Consequently, they thoroughly socialize all their puppies before rehoming. They expose the dogs to as many different people, environments, and sounds as possible so that adjusting to your household routine won't be a problem.
Krieghund wants to ensure you and your dog develop the long-lasting relationship people and their dogs are known for. So, they're always available by phone or email to answer your questions, whether they're about the adoption process, training strategies, or the right food for your new puppy.
Contact Krieghund Farm
Schweitzer German Shepherds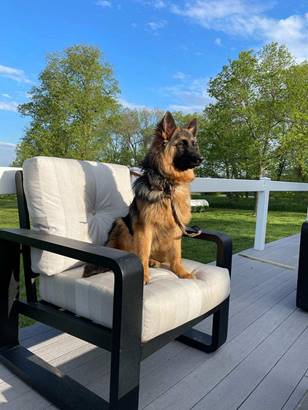 Schweitzer German Shepherds is a family-based Nebraska breeder. They strive to provide dogs that perform on various levels, whether that's as show dogs, working dogs, or household companions.
Located in Milford, Nebraska, Schweitzer rehomes their German Shepherd puppies across North America. At seven weeks, they test the dogs for temperament. But even before that their dogs undergo extensive health checks to ensure they will produce litters that are free of heritable conditions.
They also check their dogs for hip, teeth, and eye health routinely.
To ensure a consistent breeding standard, Schweitzer only uses AKC-certified dogs. The result is genetically sound dogs with exemplary temperaments.
Another benefit of this Nebraska breeder is that, for an additional fee, they are happy to ship puppies across the U.S. and Canada. That enables many people to find a puppy that suits them but saves them from making a cross-country trek to collect them.
The puppies have access to a vast green space for play and socialization. That's because, in addition to breed health, Scheitzer's other priority is well-adjusted dogs. Once it's safe to expose the puppies to other dogs and litters, they do so thoroughly. They also ensure they become familiar with many household sounds and noises.
The result is a well-behaved dog with a beautiful temperament and vet-checked health certificate who makes an excellent companion.
Puppies are tattooed or microchipped before rehoming. You can follow their growth on the website and social media.
It's also possible to contact Schweitzer with any questions you may have before, during, and after the adoption process. They value their dogs and their owners and want the transition to a new home to go as smoothly as possible.
Contact Schweitzer German Shepherds
Waldo German Shepherd Dogs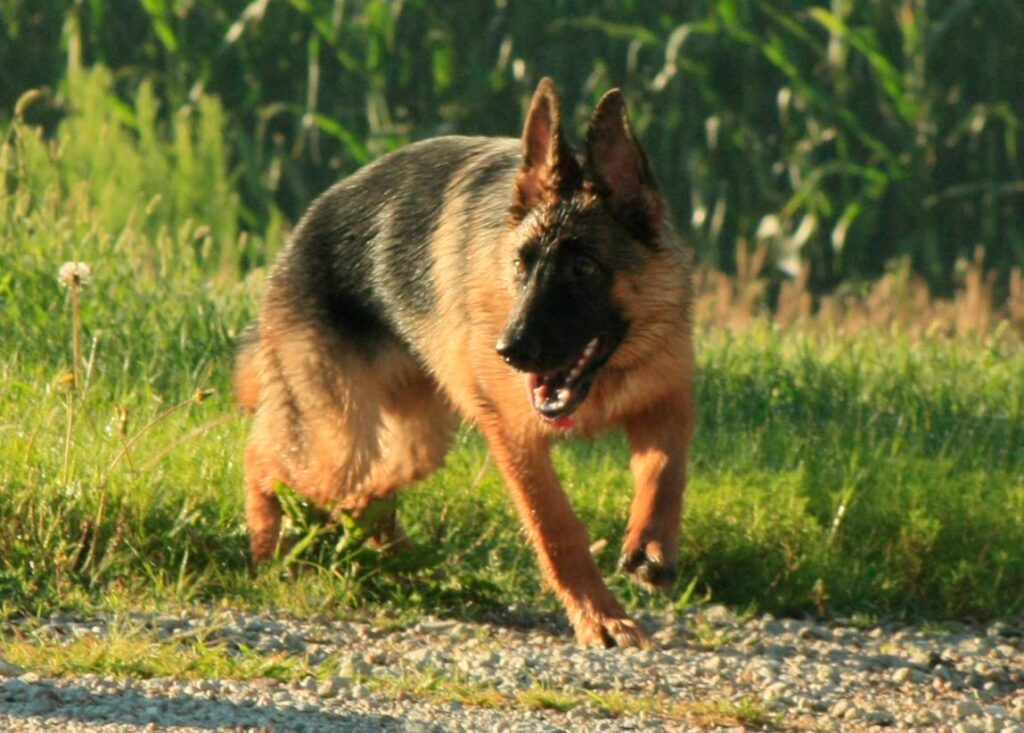 One of the reasons we like this German Shepherd puppy breeder is their transparency.
Waldo agreed to participate in a project called Good Dog that exhaustively compiled U.S. dog breeders by dog type and ranked them depending on quality. Waldo German Shepherds ranked as excellent.
They encourage potential owners to request a vet referral as they decide about a breeder.
Another reason we like Waldo German Shepherd Dogs is that they temperament-test puppies at seven weeks. That ensures you get the right dog for your family, even if some of the fun in choosing a dog yourself dissipates.
What matters to Waldo and their customers is that all dogs and owners get the home that suits them.
In addition to temperament testing, Waldo German Shepherd Dogs run extensive genetic testing on their breed dogs to prevent passing on complex hereditary conditions. Their puppies come with a health guarantee and the breeding dogs are OFA and SV certified. That means you can be confident their hips and elbows are sound.
Since they are a family-run business, they have fewer dogs than other breeders, and that limits the number of available puppies at a given moment. However, it also means they can thoroughly socialize with their dogs.
The puppies are raised in a home environment and quickly adapt to the bustle of house life, including children, vacuums, and other dogs.
It's important to understand that this German Shepherd breeder doesn't let the owner pick the puppy. That's because their priority is satisfying you and their dogs. They encourage all potential owners to contact them by phone or email.
Contact Waldo German Shepherd Dogs
Menards Legendary German Shepherds
Menards Legendary German Shepherds is one of the most experienced German Shepherd breeders on this list. They have 25 years of breeding experience and specialize in traditional German Shepherd puppies.
That means they are as genetically pure as you can get and have exemplary temperaments. Menards uses Embark testing to screen all its dogs for heritable conditions and to eliminate potential problems like ME or hip dysplasia.
The dogs are slightly above the standard AKC size, but all are thoroughly socialized and arrive at their adoptive homes with rudimentary training to help you adjust to having a puppy.
Because they prioritize socialization and health, all Menards' German Shepherd puppies are familiarized with different household sounds, people, and other animals from an early age.
They are always happy to answer questions about their dogs and the adoption process and remain available to offer advice to customers after the adoption is complete.
Contact Menards Legendary German Shepherds
Sehr Gut Wessen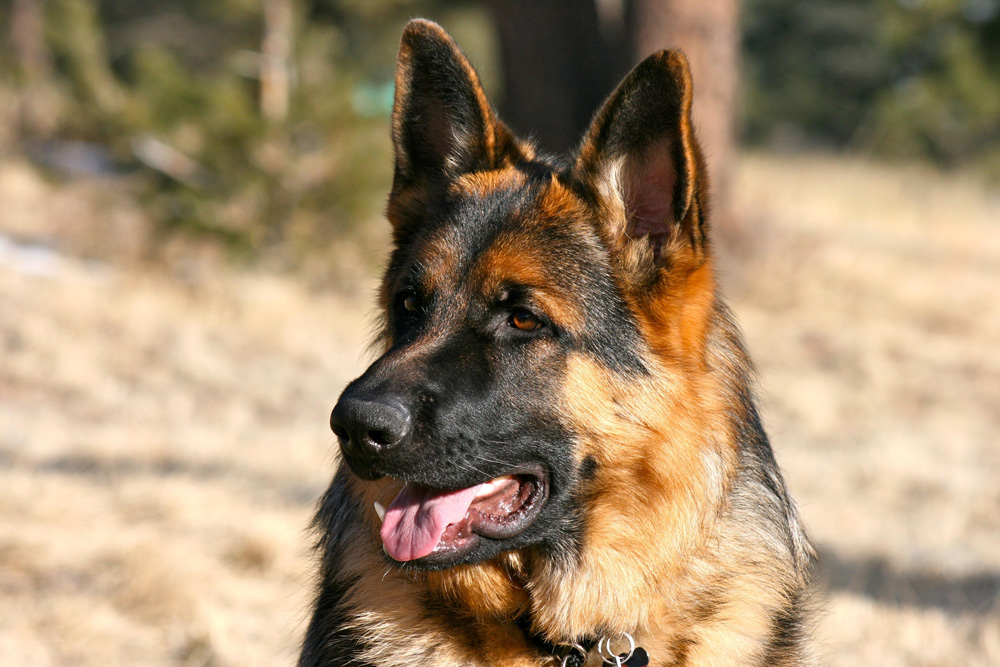 Finally, Sehr Gut Wessen is German and means roughly "Very Well Being." It's not an ideal translation, but it does capture this Nebraska German Shepherd breeder's ethos.
They strive to produce traditional German Shepherds with pedigree bloodlines, excellent health, and beautiful temperaments.
They rigorously test their dogs before involving them in the breeding process. This reduces the risks of genetic conditions developing. Sehr Gut Wessen is so confident in their dogs that they offer a 27-month health guarantee with their puppies.
All puppies are dewormed, declawed, and vaccinated as appropriate. Notably, they won't have received their second round of vaccinations when owners collect them. That's because they are too young, so the impetus to further vaccinate shifts to the new owners.
However, Sehr Gut Wessen is always happy to offer advice throughout the adoption process and to talk to you about their dogs.
To help puppies transition to their new homes they are extensively socialized before adoption. So, the puppy you take home will be used to strangers, other animals, and the usual household noises.
Prospective owners are encouraged to reach out with any questions if Sehr Gut Wessen sounds like the right breeder for them.
Contact Sehr Gut Wessen
Conclusion For "German Shepherd Breeders in Nebraska"
Finding a German Shepherd breeder shouldn't be difficult. Neither should finding German Shepherd puppies be a stressful experience.
You want to enjoy those hectic days of puppyhood as much as possible. The best way to do that is to find a breeder you trust, and who's prepared to offer advice as and when you need it.
Hopefully, this list helps you find a suitable breeder, and in the process, a German Shepherd puppy to enrich your home life.