If you're looking to adopt a German Shepherd in Dallas, Texas, you're in the right place! German Shepherds are intelligent, loyal, and versatile, making them popular choices for families and individuals. Yet, not all German Shepherds have a loving place to call home, and that's where German Shepherd rescue in Dallas come to play.
These rescues rehabilitate and rehome German Shepherds in need. They ensure that they find forever homes where they can thrive. Let's introduce you to Dallas's best German Shepherd rescue centers without further ado.
Other articles you may also like: Must-Have Essentials for Your German Shepherd Puppy and How Much Do German Shepherds Sleep?
1. Good Shepherd Rescue of Texas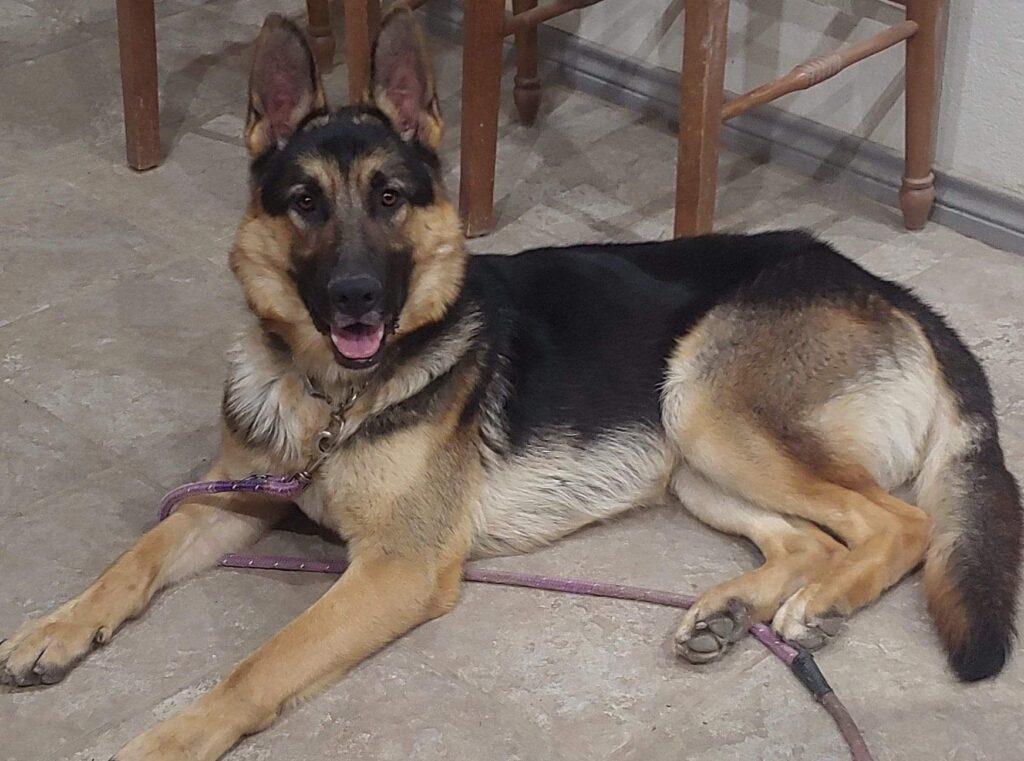 GSRT was founded in 1999. Since then, they have rescued and rehomed countless German Shepherds in need. Their primary goals include saving German Shepherds from shelters, providing them with medical care and necessary training, and matching them with suitable adoptive families.
Good Shepherd Rescue of Texas is dedicated to raising awareness about the breed's unique characteristics and responsible ownership.
Through community outreach programs, they dispel misconceptions about German Shepherds and promote responsible breeding practices.
Adoption Process
The process involves getting their first approval for those interested in adopting a German Shepherd from GSRT. You'll undergo an interview that assesses how you interact with the chosen dog. Once approved, the foster parents will assist throughout the adoption process.
The adoption fee for puppies under 12 months is $300. German Shepherds above 12 months are $350 or higher, depending on the dog's age and specific needs.
Support and Education
GSRT understands that not all German Shepherds may find their forever homes immediately. The German Shepherd rescue Dallas Center provides lifelong care for the dogs in their care. Therefore some GSRT German Shepherds may live out their days in a private foster home if they are not adopted.
GSRT also serves as a valuable resource for education and support for adopters. It provides guidance and advice to ensure a successful transition. The organization has a strong presence on social media, particularly on Facebook.
Contact Information:
2. Dallas Animal Services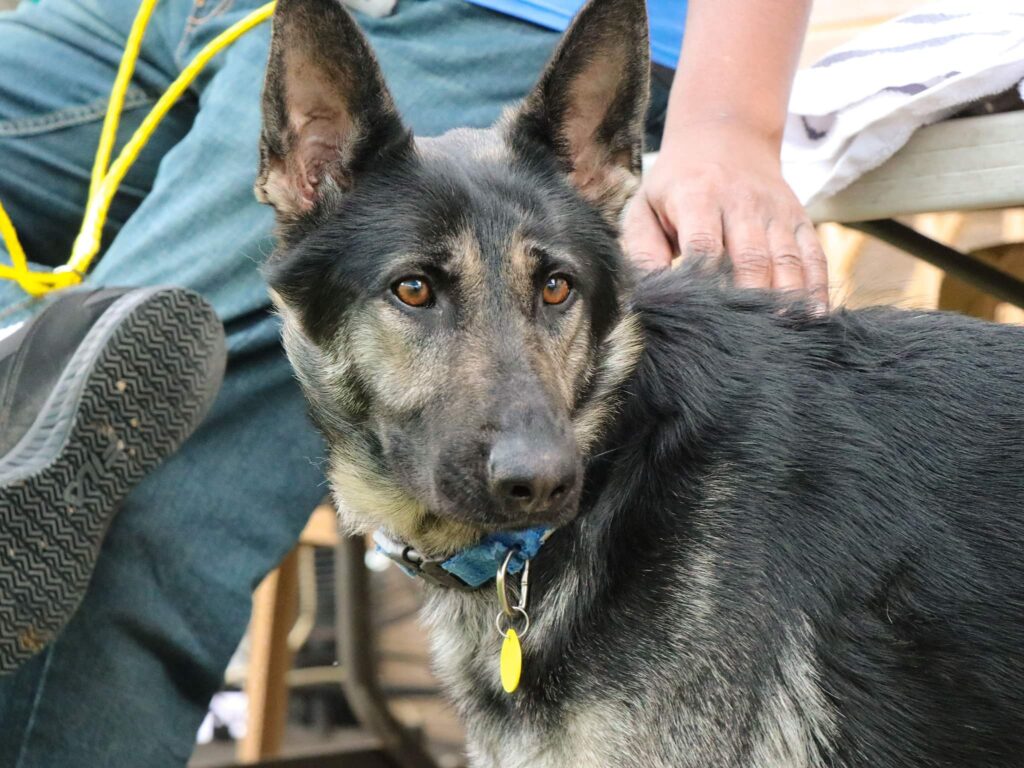 Dallas Animal Services finds loving and permanent homes for needy dogs. They understand the unique needs of this breed. This dedicated German Shepherd Dallas rescue organization saves German Shepherds and their mixes from neglect, abuse, or at risk of euthanasia in a shelter.
It matches them with adopters who provide the care and attention they deserve. One of the unique aspects of this rescue is their emphasis on keeping bonded pairs together.
Many German Shepherds form strong bonds with their fellow canines. Dallas Animal Services goes the extra mile to ensure these pairs are not separated but adopted together.
Adoption Process
To adopt a dog from Dallas Animal Services, interested parties must fill out a detailed application that includes the following:
Information about their details
Employment
Housing situation, and
Their preferences and expectations for a dog.
Fostering
Dallas Animal Services also provides foster opportunities for those not ready to commit to adoption but still want to help. Foster homes receive:
Food
Medical care, and
Other necessary supplies
The fostered dogs receive the care and attention they need in a loving home environment.
Contact Information:
3. Grace Mercy Love German Shepherd Rescue (GMLGSR)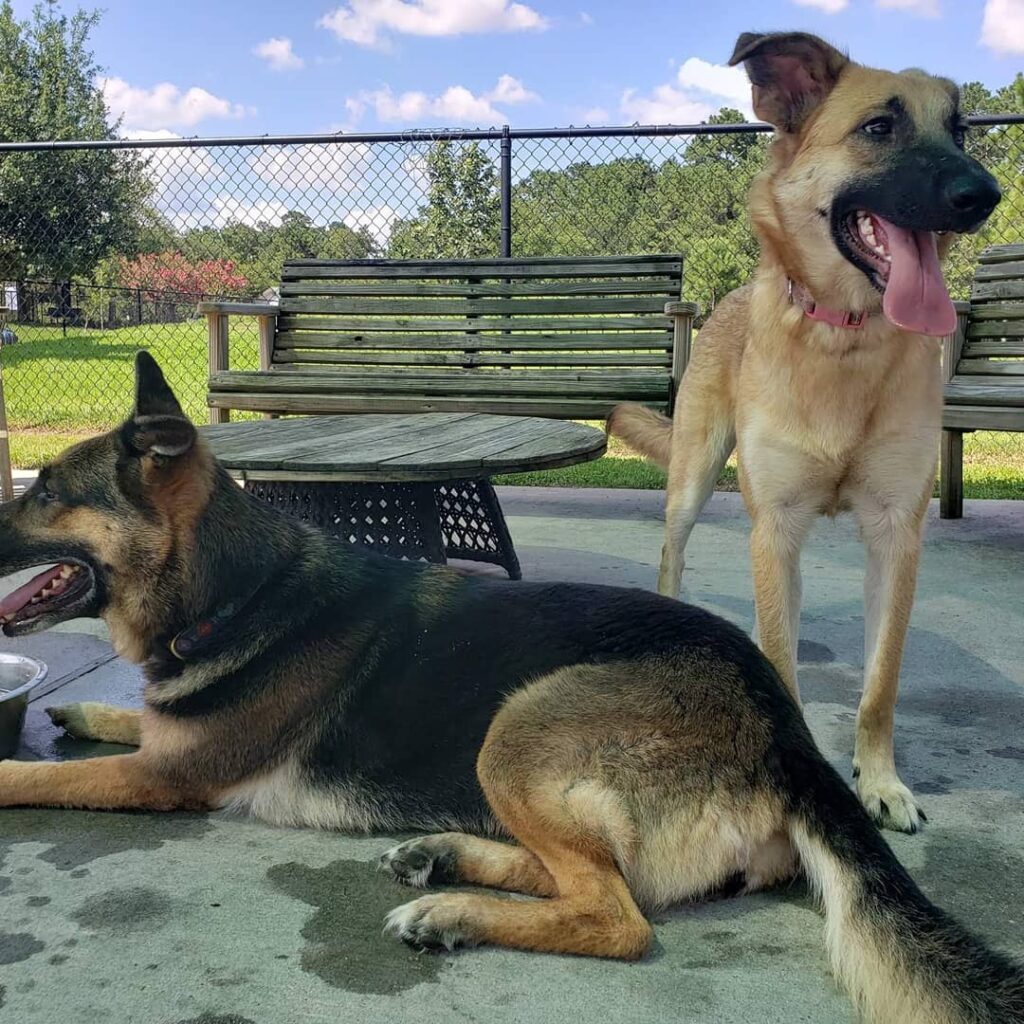 GMLGSR saves German shepherds from needless euthanasia and places them in loving, forever homes. The reputable rescue works with other rescues in the whole of Texas. They have laid down extensive processes to ensure the cherished dogs find the affectionate families they deserve.
This German Shepherd rescue Dallas center sets itself apart due to its commitment to responsible pet ownership. They strive to educate people on how to care for pets and meet their needs.
This dedication to education is evident in their thorough adoption process. The process requires potential adopters to meet several conditions before approval.
Adoption Process
The adoption process at GMLGSR is rigorous but rewarding. They do allow for non-local and out-of-state adoptions. However, they require potential adopters to spend at least one night in the Houston or Katy area.
This process ensures that the adopter and dog are suitable for each other. The adoption fee varies depending on the age of the German Shepherd.
Puppies typically cost over $350
Adults priced at $300+
Seniors at $250+.
Post Adoption Support
GMLGSR offers post-adoption counseling and is available to answer questions adopters may have.
Contact Information:
4. Blue Angel German Shepherd Dog Rescue (BAGSDR)
BAGSDR organization operates under Rescuers United for Furry Friends (RUFF). They save unwanted German Shepherds and find them loving forever homes.
BAGSDR mainly takes German Shepherds from active duty military personnel who may have to surrender their beloved pets due to duty station transfers. BAGSDR understands the unique challenges faced by military families. They strive to help these dogs find new homes where they will be loved and cared for.
Adoption Process
The adoption process at BAGSDR is straightforward but thorough. Prospective adopters complete an adoption application where they undergo a rigorous screening process.
At the end of the screening, you'll pay an adoption fee of $450 for puppies less than one year and $350 for dogs above one year.
BAGSDR restricts adoptions to the San Antonio area. Yet, they make exceptions case-by-case if it is in the dog's best interest.
One key distinguishing this German Shepherd rescue Dallas center is its commitment to responsible adoptions.
Home Visits
Beyond thorough background and reference checks, they do home visits to ensure the German Shepherds they rescue are in safe and loving homes.
They also provide education and support to adopters to ensure a successful transition for the dog and the adoptive family.
Contact Information:
5. Greater Houston German Shepherd Dog Rescue (GGSDR)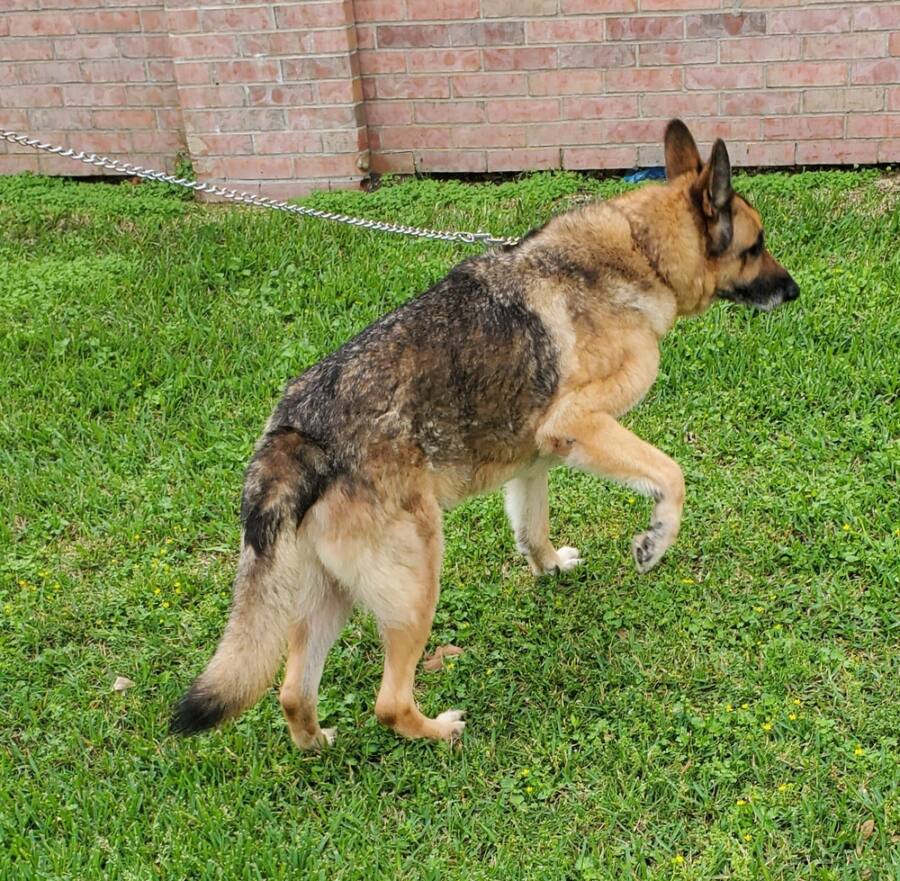 GHGSDR is a reputable breed-specific German Shepherd rescue serving Houston, Dallas, and Texas. GHGSDR focuses on rescuing dogs surrendered by owners. The German Shepherd Rescue organization provides essential health care for the dogs, including spaying/neutering and microchipping.
They ensure their dogs are healthy before placing them in foster care until they find their forever homes. GHGSDR also offers a permanent dog sanctuary and provides ongoing support and maintenance.
By collaborating with local shelters, veterinarians, and other rescue organizations, they work to create a better future for all dogs, particularly German Shepherds, in the Lone Star State.
Adoption Process
GHGSDR finds a match between the German Shepherds and their potential adoptive families. The process involves reviewing adoption applications, which can take four weeks.
After approval, a coordinator will engage in a personalized consultation to recommend suitable German Shepherds from the available options.
Obedience Training
In some cases, GHGSDR may help with obedience training for adopted dogs, depending on their needs and behavior. They work with German Shepherd Dallas experts to ensure the dog and the adoptive family successfully transition.
Contact Information:
6. DFW German Shepherd Rescue (North Texas)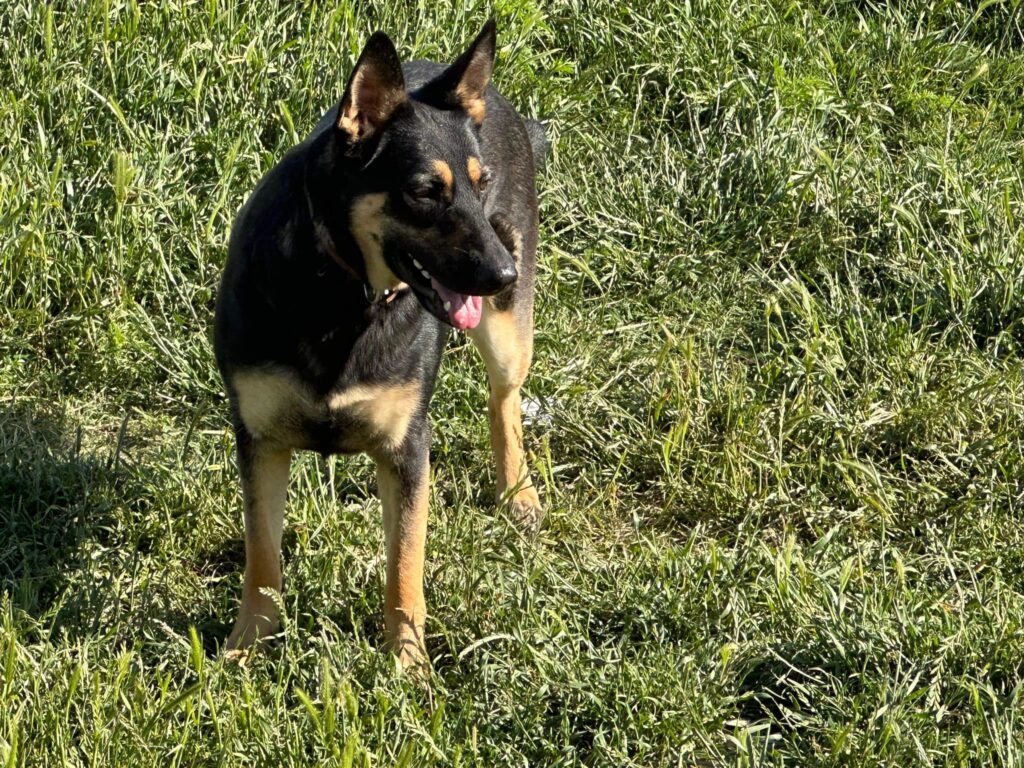 DFW German Shepherd Rescue is a non-profit organization dedicated to saving German Shepherds in need. In some instances, they provide a safe haven for dogs primarily rescued from local shelters, owner-surrendered and stray dogs.
The organization's mission is to rehabilitate and restore the health of dogs that require extra care, with more than 40% of the dogs in their care needing extensive rehabilitation, including medical care and weight gain.
Adoption Process
To make it convenient for potential adopters to meet the dogs available for adoption, DFW German Shepherd Rescue holds adoption events in Dallas.
Adoption fees range from $200 to $400, depending on age and breed purity. All dogs coming into their program are extensively examined by a veterinarian before they are readied for adoption.
Contact Information
7. Tagg Rescue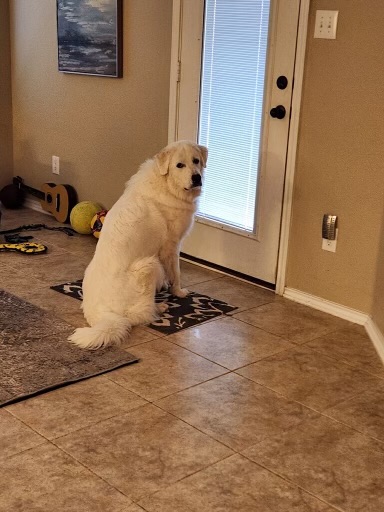 TAGG Rescue, which stands for Tornado Alley Gentle Giants, is primarily based in Dallas, Fort Worth, Texas. The rescue's mission is to save gentle giants, including German Shepherds, and find them homes in or out of Texas.
The rescue is committed to providing care and support for all dogs that come through its doors. All their dogs available for adoption are fully vetted, including being spayed/neutered, up-to-date on all vaccines, dewormed, given flea and tick prevention, current on heartworm preventative, and microchipped.
Adoption Process
For those interested in adoption, TAGG Rescue provides an Adoption Application that can be downloaded from their website. The application can be submitted after completion via email to [email protected]. Additionally, the rescue provides a Foster Application for those interested in fostering a dog.
They believe the right dog will find the right home at the right time for the right reason. They never rush to place a dog in an unsuitable home.
Contact Information:
Email: [email protected]
Website: https://taggrescue.org/
Location: DFW, TX
Social Media: Not available
Conclusion For "Best German Shepherd Resuces in Dallas"
German Shepherd rescues in Dallas, Texas, save and rehome needy German Shepherds. These organizations provide necessary medical care, training, and rehabilitation to prepare rescued dogs for adoption and ensure they end up in loving and permanent homes. They also offer ongoing support to adopters through training resources, behavioral support, and follow-up visits.
If you are considering adopting a German shepherd, reaching out to one of these organizations can be a rewarding way to provide a forever home to a deserving furry friend.