If you're searching for White German Shepherd breeders in the United States, you're in for a treat. These dogs are highly prized for their versatility and loyalty. German Shepherds have a noble character and are intelligent and confident. They make excellent all-purpose workers and quickly learn commands.
To ensure you take home a healthy and well-trained pup, choosing a reputable breeder is essential. But with so many options, how do you know where to start? We've done the research for you and narrowed it down to the six best White German Shepherd breeders with a proven track record of responsible dog ownership and quality breeding practices.
Other articles you will also like: White German Shepherd Puppies-Everything You Need To Know and How To Potty Train A German Shepherd Puppy (Guide)
1. ASJ White Shepherds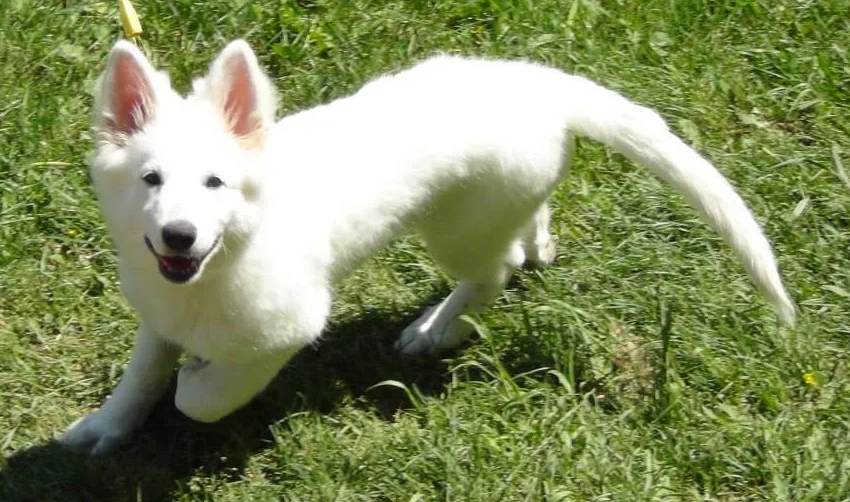 ASJ White Shepherds is a reputable White German Shepherd breeder with over a decade of experience in the industry. Over the years, the breeder has maintained their commitment to their founding concepts. Essentially, their mission is to breed healthy pups for companionship.
The breeder has a strict adoption program as they strive to ensure they only give out their puppies for adoption to responsible families. They only give their dogs to families that can offer a friendly and comfortable environment.
ASJ White Shepherds also provides their dogs the love, care, and attention they deserve right from birth until they leave for their forever homes.
As for the health of the White German Shepherd puppies in the USA, they undergo all the required health checks before adoption. The Orthopedic Foundation for Animals (OFA) tests and rates the puppies to ensure they are free from genetic complications.
One thing you'll like about ASJ White Shepherds is how their offer a fantastic buying experience. Apart from offering healthy and happy puppies for adoption, they provide honest advice to ensure you know how best to care for your new furry friend.
Breeder's Details
2. White Star Shepherds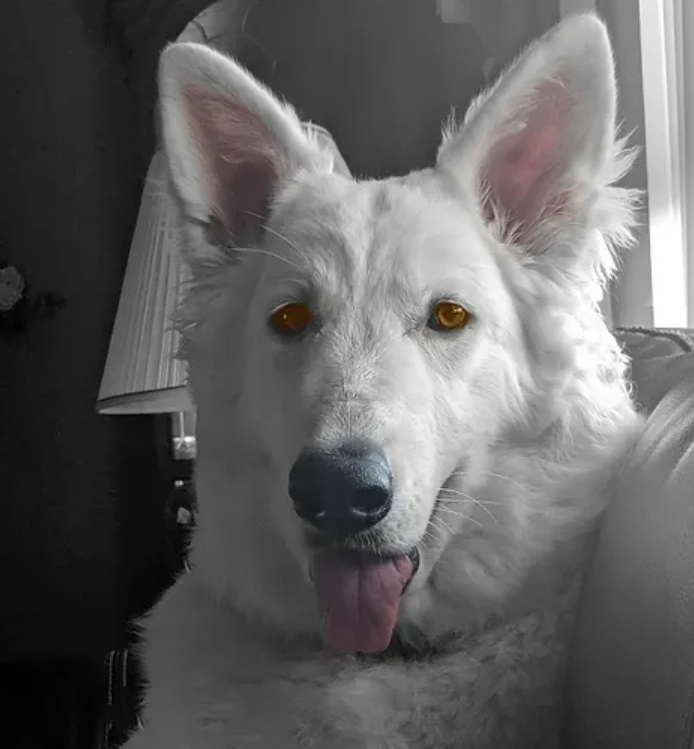 It's always recommended to opt for a family-owned breeder since they care for their dogs as their own. White Star Shepherds is one of such breeders in Lancaster, New York. They raise their German Shepherds in a friendly environment where puppies interact with kids and adults.
The setting provides an ideal environment for the dogs to improve their social skills from birth.
White Star Shepherds also breed their puppies for health and temperament. Their Shepherds are ideal for multiple purposes, including therapy dogs, working dogs, rescue dogs, search, and confirmation. The German Shepherds are also friendly with kids and make the perfect security dogs.
The breeder's dogs undergo rigorous health checks to ensure they are of the best bloodlines. With this in mind, you can be confident to take home a healthy puppy without any genetic health defects.
To meet the demand for quality White German Shepherds, the breeder partners with United Kennel Club, the American White Shepherd Association, and Federación Canofila de Puerto Rico.
Breeder's Details
3. Laguna Creek Ranch
Responsible breeders should strive to improve the quality of their breeds from time to time. Laguna Creek Ranch fits this description, as its core objective is to preserve and improve its breed quality.
This California-based breeder mainly focuses on breeding short, plush, and long coat White German Shepherd pups. Laguna Creek Ranch usually is proud of its German Shepherds as they provide the best breeding environment for their dogs. You'll quickly fall in love with their beautiful, intelligent puppies the first time you meet them.
Laguna Creek Ranch has over 25 years of experience raising White German Shepherds. They have a strict breeding program as they only choose the best parent dogs for their litter.
The good thing about Laguna Creek is that they understand some common challenges their clients face when looking for reputable AKC breeders. Therefore, they have their customers' interests at heart when breeding dogs.
Since most of their puppies are usually in high demand, the right timing is important to ensure you find the right puppy that meets your preferences.
Breeder's Details
4. Polarbear White Shepherds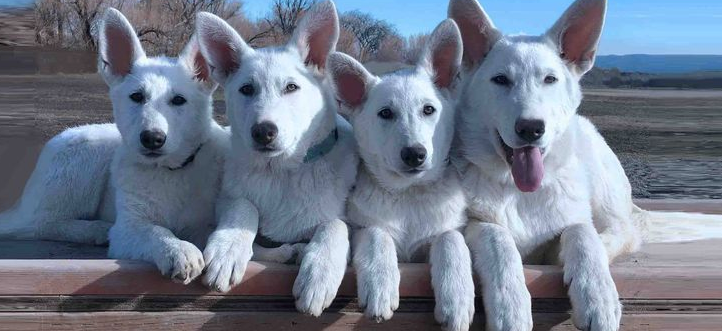 If you're looking for the perfect puppy to adopt, Polarbear White Shepherds guarantees to surpass your expectations. The breeder has been in business since 1999, and with the experience garnered over the years, they know what it takes to meet their customers' expectations.
Polarbear White Shepherds prioritize the health of their pups above anything else. Besides offering their dogs a family-friendly environment, they strive to ensure they are healthy and free from genetic complications associated with German Shepherds.
Puppies grow to become superb family dogs, and the breeder typically looks at their client history before offering their dogs for adoption. This is a move that ensures their Shepherds find their perfect forever homes.
Another exciting thing about Polarbear White Shepherds is that they let their puppies roam free. Unlike kennel dogs, their puppies grow on a farm, playing around and interacting with people and other pets.
Polarbear White Shepherds also emphasize that their Shepherds aren't meant for breeding purposes.
Breeder's Details
5. Bear Paw Farms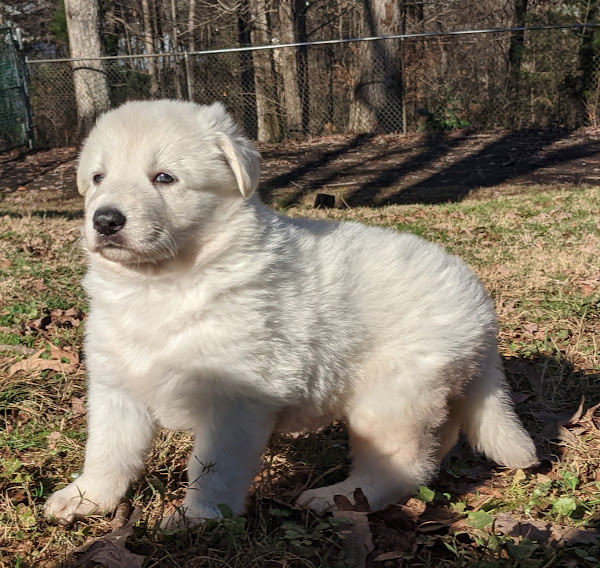 Bear Paw Farms started as a hobby and became one of the best White German Shepherd dog breeders in the U.S. The breeder understands the value of keeping a dog as a life companion. This is what they offer to their esteemed clients. Bear Paw Farms brings up their pups to become loyal and loving friends.
The breeder doesn't compromise on the quality of its litter; it only selects the best parent dogs for their breeding program. By choosing dogs from the best of the best bloodlines, you can be confident to take home a German Shepherd that won't have any genetic health issues in the long run.
Bear Paw Farms offers a lifetime guarantee on their White German shepherd puppies in the USA. This is one of the many ways to ensure clients get top-quality White German Shepherds to adopt. You can read the testimonials on the breeder's page to be sure you're dealing with a breeder you can trust.
Breeder's Details
6. Rolling H Farms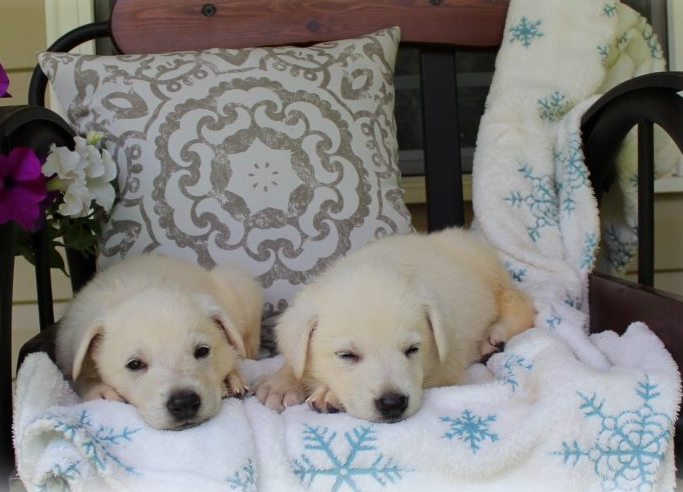 Experience is a good teacher, and Rolling H Farms boasts over 35 experience in breeding White German Shepherds. This family-owned breeder has been in the industry for quite some time, and they take pride in the quality pups they offer.
The breeder uses a selective approach in choosing their pups' bloodlines. This guarantees they produce the best quality Shepherds. The selection process also ensures the puppies are healthy and intelligent. Their German Shepherd puppies enjoy a comfortable playing environment and are constantly fed healthy, nutritious meals that support their optimal growth.
Rolling H Farms breeds their puppies in a way that focuses more on socializing them to be intelligent and social creatures. Dogs from this breeder can serve many purposes, including growing to be service dogs, family companions, therapy dogs, and so on. The breeder aims to produce dogs that one will live to remember.
Shepherds from this breeder undergo all the required health checks. Adult dogs and puppies are up to date with their medical health records. All these efforts are geared toward ensuring all dogs are fit for adoption at any stage.
Rolling H Farms offers a simplified way to purchase their puppies if searching for White German shepherd puppies for sale in the USA. If you live nearby, you can drive to their farm and choose a puppy you love. Alternatively, the breeder can meet you halfway if you don't live near the farm. Another option is to have your new puppy fly using commercial airlines. The breeder offers a health guarantee on their White German Shepherds.
Breeder's Details
How to Choose a Dog Breeder
While it's not easy choosing a breeder, there are a few pointers to keep in mind to ensure you settle for the best.
Meet the Breeder
To gain a clear understanding of the breeder you are working with, it is highly recommended that you schedule a visit to their breeding facility. This will allow you to assess the caliber of their puppies and the level of care they provide to them.
Meeting with the breeder in person will allow you to gather valuable information about their breeding practices and expertise.
Ask the Right Questions
To make an informed decision about adopting a dog, ask the right questions. These questions may include inquiries about the breed, vaccination records, and other relevant information about the breeder.
It is highly recommended that you do not hesitate to ask these questions to ensure that you make the best decision for yourself and the animal.
Meet the Pup's Parents
Meeting a puppy's parents is essential if available at the breeding facility. If not, you can request pictures to see what your puppy may look like as they mature. It is recommended to clearly understand the pup's lineage and any potential health issues that may arise.
Meeting the parents can also give insight into the temperament and behavior of the pup. As a responsible pet owner, gathering as much information as possible about the pup's background is crucial.
Conclusion For "Best White German Shepherd Breeders"
Finding a reputable White German Shepherd breeder in the U.S. isn't easy. Some breeders claim to offer the best quality pups, but their dogs don't meet the required health checks. It's essential to confirm that you're relying on a breeder with experience in the industry.
To save you from the trouble of trying out different breeders, use the recommendations provided in this post. Remember, your goal is to bring home a healthy, happy furry friend.