Did you know the German Shepherd makes the (American Kennel Clubs) AKCs list of the most popular dog breeds? It is because they are loyal and intelligent and make great family companions. They also have a great work ethic, which makes them great for search and rescue and police work.
You can consider breeders such as Triple S German Shepherds, Dixie K9 L.L.C, and NoFearLivesHere K9. The breeders have various German Shepherds of different sizes and colors. They also train the dogs to ensure they are in top condition and can socialize with other animals and humans which is why we have a list of the best German Shepherd breeders in Alabama for you here.
Other articles you will also like: 5 Best German Shepherd Rescues in Alabama! and How to Discipline A German Shepherd Puppy
Triple S German Shepherds
Located in Newville, Triple S German Shepherds offers various breeds of German Shepherds, including lines of West, East NAD Czech bloodlines. The breeders at Triple S take pride in having multiple colors of shepherds available, including red and black, solid black, and bi-color.
The shelter home values friendship and companionship, so they are passionate about training and socializing their pups to fit better into their new homes. That's why puppies from Triple S are friendly, good with children, and eager to learn.
If the dogs are for law enforcement, Triple S can import the right breed to display the needed skill and aggression. They can also consider customizing a dog to suit the purpose. For instance, if a particular job requires the dog to be good at search and rescue, they can customize their German Shepherds to be good in that area.
Contact Details
Davidson GS K-9
Davidson GS K-9 is located in Central Alabama, with 18 years of experience. The German shepherd breeders have been dedicated to producing top-quality dogs for work, show, and companionship.
They raise puppies with Europene bloodline with high drive, good temperate, and quality health. Practical motivations and play maneuvers are used to help puppies work well and socialize better. Dogs are delivered free if the distance from home to your address is within 150 miles.
The organization also offers training and boarding services which can help you further develop your pup's skills and abilities. You can also get posh items like collars, muzzles, and leashes. However, you can be required to provide your location to ensure they can assess the environment before your adoption is approved.
Contact Details
NoFearLivesHere K9s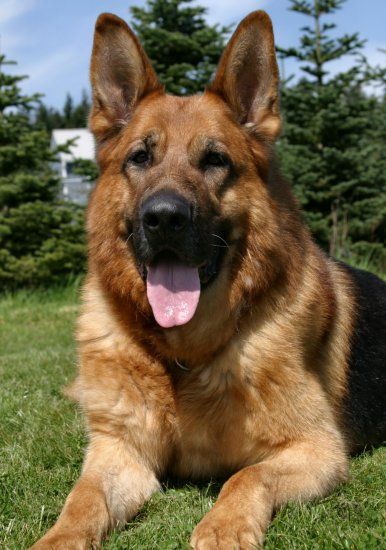 NoFearLivesHere K9's takes great pride in producing some of the best, most well-tempered German Shepherds. All pets are wormed, vet checked, and have a health guarantee. They also offer socialization training, which helps the puppies adjust to their new home and life.
The shelter home also offers training classes for German Shepherd puppies and adults. They can help with obedience, gun dog training, protection, and search/rescue by training the dogs in sit-on command.
Each puppy has a folder containing the puppy's registration info, health guarantee, complete pedigree, and a puppy pack. It also includes additional information, such as the puppy's diet, tips on potty training, and crate training.
Contact Details
Sweet Country Shepherds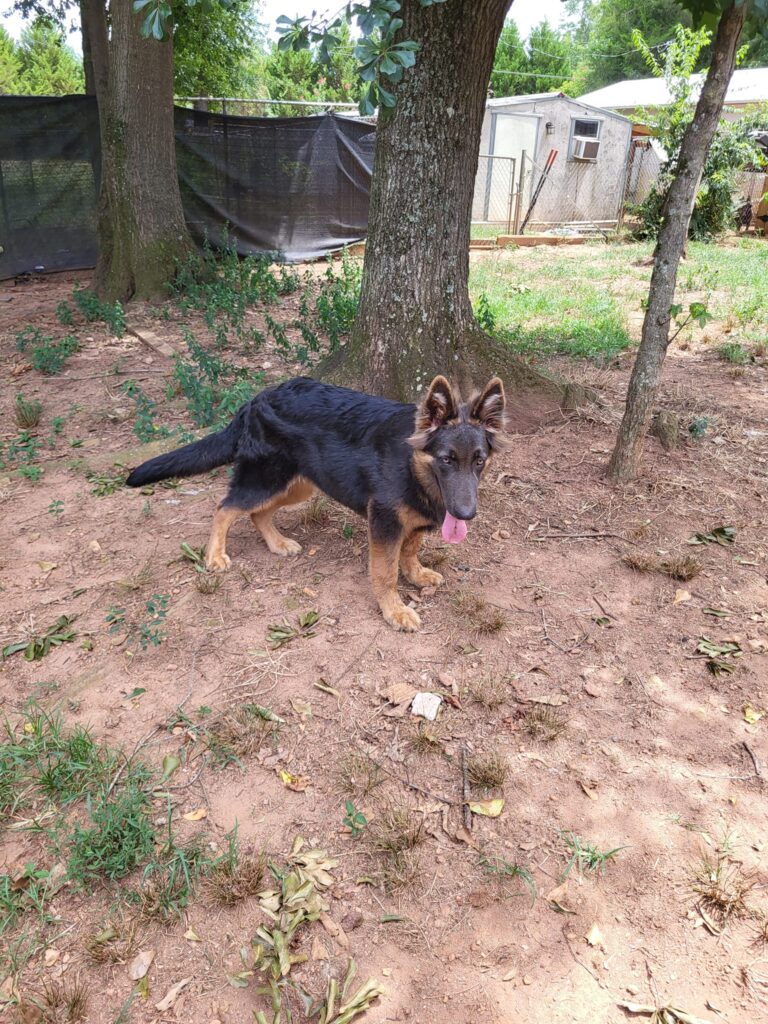 Unique colors such as black and silver, brindle, liver, Isabella, and red sable make up the breeding program at Sweet Country Shepherds. The breeds also have a beautiful, true-to-type temperament, a combination of intelligence and loyalty.
All their puppies are born in a temperature environment, with age-appropriate shots and a health guarantee. They are also raised indoors, handled from day one, and exposed to various people.
As the organization believes in promoting the GSDs' natural abilities, the puppies are bred for physical prowess by getting training courses such as obedience, agility, and protection. The dogs also have a higher drive and are used for therapy needs.
Contact Details
L&M German Shepherds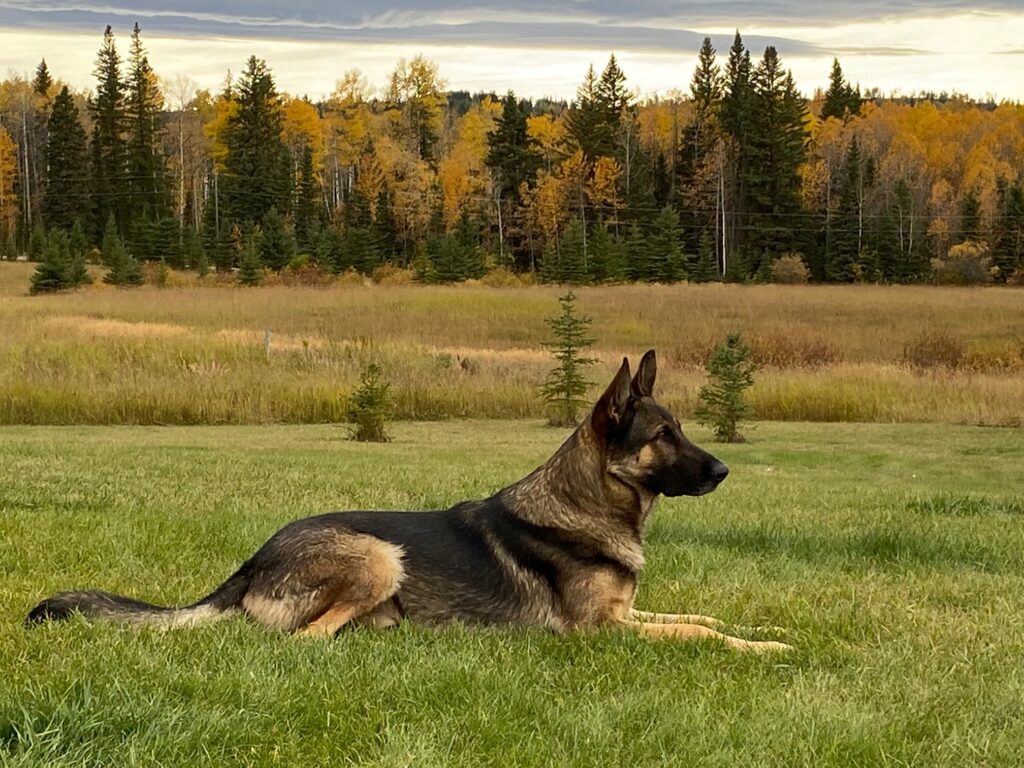 Big bodies and straight backs are the hallmarks of L&M German Shepherds. The Dogs are bred for sound temperaments, are AKC registered, and are inspected regularly by local veterinarians.
Upon adoption, puppies get complete vaccinations with all their health records, a written health guarantee, pedigree papers, and lifetime breeder support. They also offer a 24-hour hotline for any questions about the puppies.
The organization also mentors Owners and educates them on proper puppy care, nutrition, and training. They also offer a puppy starter package with items such as an exercise pen, food bowl, leash and collar, toys, chew bones, and treats.
Contact Details
Alabama Canine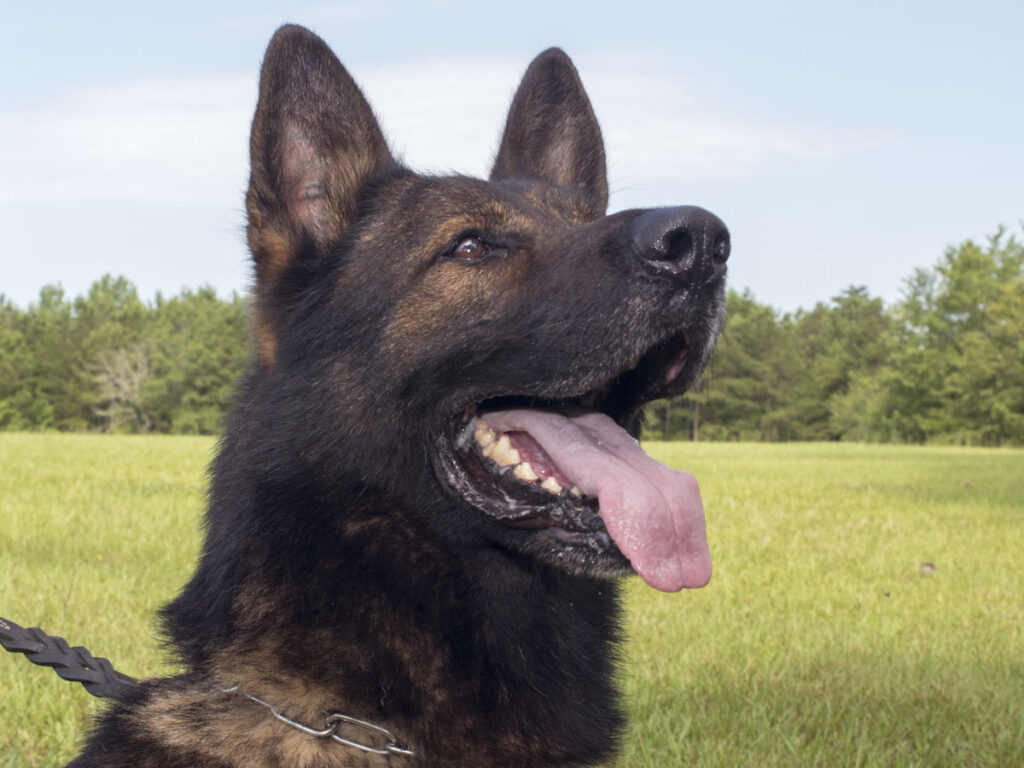 Alabama Canine was founded in 1985. With over 30 years of experience, it has grown to become one of Alabama's finest German Shepherd breeders. It offers dog training in 28 foreign countries and provides top-notch puppies as they are bred from AKC-registered parents and have their health clearances.
Civil liability training is part of their program, as they are committed to safety and compliance. For instance, the organization has trained hundreds of dogs for law enforcement and military use in narcotics, explosives, accelerant, and cadaver detection.
You can adopt a puppy or an adult German Shepherd with full registration. The organization also offers a one-year health guarantee and free delivery.
Contact Details
Dixie K9 L.L.C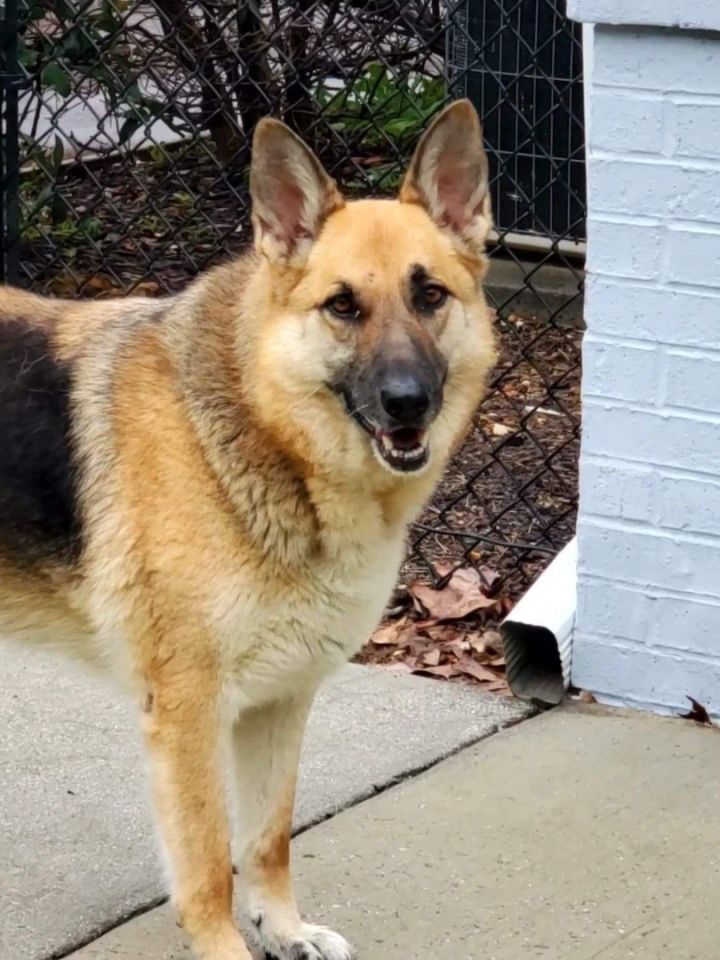 Dixie K9 LLC was established by Daniel Lombart, who was passionate about helping neglected, abused, and abandoned German Shepherds. The organization provides safe shelter for the dogs and offers various programs to meet the needs of every.
With over ten years, Dixie K9 LLC prides itself in providing puppies from some of the greatest European lines in the breed. They also offer basic and advanced obedience training, proper socialization, and potty training to help their dogs easily adapt to new environments.
Contact Details
Schwarzer Hund German Shepherds L.L.C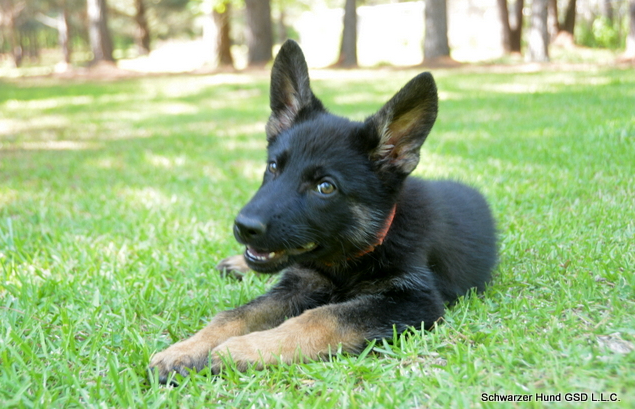 Schwarzer Hund German Shepherds L.L.C.'s mission is to provide exceptional puppies with outstanding temperaments and working ability for families and sports enthusiasts. The organization has its standards to ensure puppies are healthy, strong, well-balanced, and have a great bloodline background to ensure their dogs.
The dogs can suspect tracking, explosives, and narcotics using either ground or air scenting. They also offer therapy work, obedience, and agility training to help the dogs bond with children, adults, and other animals. Some dogs also undergo bite work and protection training to assist in police work or home security.
Before adoption, puppies are given vaccinations, deworming, and a check-up from the vet. They are also acclimated to loud sounds, such as gunshots and fireworks, to help them adjust to life with their new family.
Contact Details
Dry Creek German Shepherds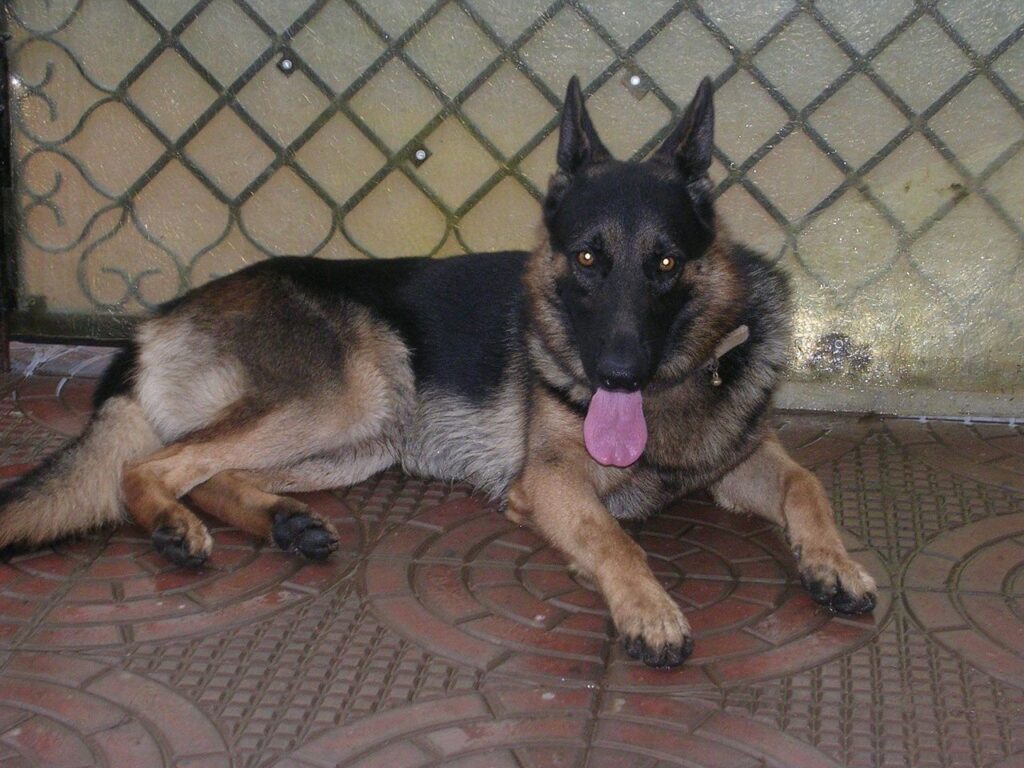 Dry Creek German Shepherds is a small, family-owned and operated kennel in the heart of Alabama that offers AKC-registered German Shepherds. The breeders aim to provide quality puppies with ideal temperament, health, and intelligence.
Dry creek german shepherds can dogs as pets by teaching social, obedience, and handling skills. They also train them for personal protection, search and rescue, agility activities, and more.
The organization is part of the American Kennel Club's Breeder of Merit Program, which recognizes the breeding and care they provide to their puppies. They also offer a one-year health guarantee and free delivery.
The shelter also ensures the pets can easily adapt to their new home by providing them with the needed lifestyle. For instance, they educate the applicants about some of the normal routines, such as potty training and crate training. They also provide a lifetime of support and advice which can ensure the individuals don't put the dog's health, safety, and well-being at risk.
Contact Details
Myranda Godwin German Shepherds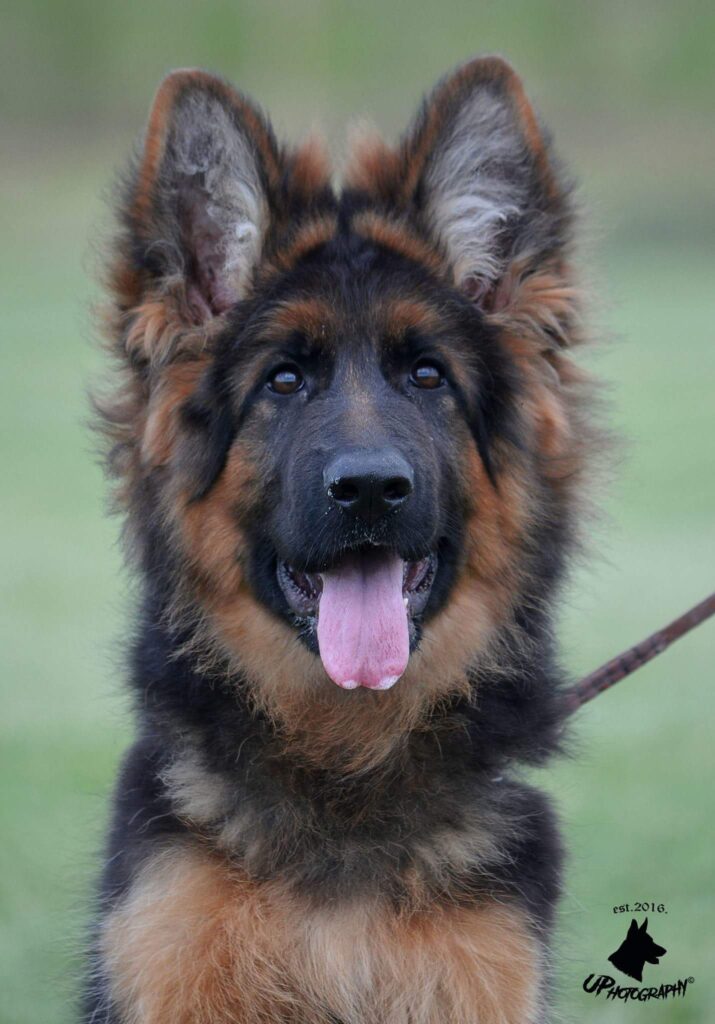 Myranda Godwin German Shepherds take pride in breeding AKC-registered pups with great temperaments and health. They focus on providing puppies that fit in well with families, as they are trained to socialize with children early.
Myranda Godwin German Shepherds dogs come in various colors, including sable and bi-color, making them ideal for show and work. Health records and registration papers are provided to the new owners.
The trainers spend time with each puppy to help them become accustomed to basic commands and socialization. They also offer various training services such as housebreaking, car rides, and leash walking.
Contact Details
Conclusion For "Best German Shepherd Breeders in Alabama"
Purchasing a German Shepherd puppy is an exciting and vital decision. That's why selecting the best German shepherd breeder in Alabama is essential. With the right breeder, you can be assured that your furry friend can arrive healthy and with appropriate training.
From Dixie K9 LLC to Hidden Creek Boerboels, there's sure to be a breeder that can help you welcome your new puppy into your home. It is important to compare the adoption prices, services offered, and the background of each breeder before making a decision.
Contact us today to find your ideal German Shepherd puppy in Alabama.